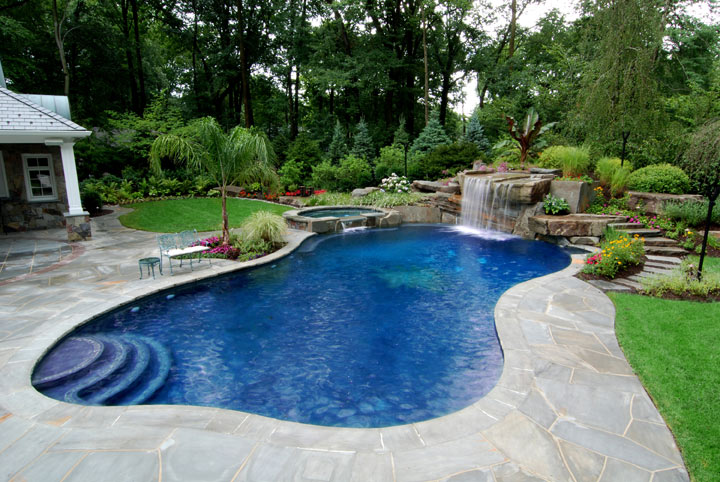 Is your pool looking old and warn out?  Do, you find that the maintenance of your pool and deck just seems to take more and more work…and it still never looks great.  It may be time for a pool renovation.
What is a Pool Renovation?
Swimming pool remodeling and pool renovation are synonymous and can be anything from completely remodeling your pool area to just upgrading a few small trouble spots.  Typically, the pool itself stays the same (shape and size), though the pool may be resurfaced, while the area around the pool gets a fresh, new look. The weather, water, chemicals and years of use can all take a toll on your pool area.  Finding a contractor that can first evaluate your pool area and then renovate your pool area will bring new life to your pool and lead to enjoyment of your pool for years to come!
The Full Makeover
When having your pool remodeled, you should consider having the whole package of work done all at once.  This typically includes installing a new paver deck, a new drain in the deck, a new pool finish, new pool tile and screen repair.  Replacing the paver deck, refinishing the pool and adding new pool tile will…
Protect your pool from leaks
Make maintenance easier
Give your pool area a clean and updated look.
You will be amazed at the difference remodeling your pool can make!
Add a Little Something Extra
While the shape of the pool will stay the same in a pool remodel, you may want to add in a spa area.  Spas can be built into existing pool areas to provide some additional space for relaxing and rest.  This also allows you to create an adults only, no splashing zone!
Let Grand Vista Remodel Your Pool
When considering a pool renovation you want to find a contractor who you can trust for both quality work and customer service.  At Grand Vista Pools we strive to make your backyard pool a place where you love to spend time.  We are certified to install Pebble Tec products and we maintain excellent communication with our clients to be sure you are satisfied not only with the finish product, but throughout the entire pool remodel.