Looking new swimming pool construction in Tampa, Trinity, or Odessa, Florida?
Check Out Our New Swimming Pools Gallery And See 88 Unique Designs And Layouts!
Grand Vista Pools has been designing and building high-quality, custom, in-ground swimming pools across the Tampa Bay area for decades. Please view our New Swimming Pools Gallery to see examples of new swimming pools we've designed and constructed in Tampa, Trinity, Odessa and throughout the Tampa Bay area.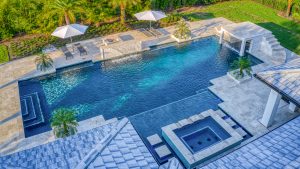 Click to view more photos of new swimming pools we've built
New Swimming Pools Construction Process
We want you to feel comfortable and confident throughout the entire swimming pool building process - from the initial meeting to the first time you dip your toe in the pool. So, we explain the entire process here:
Initial Meeting
To start the process of purchasing a new swimming pool, we must first meet at your residence to discuss your ideas and get a feel for your vision. At this meeting we will need to look at your property survey to determine the boundaries of your property. This will help us to get a better idea of how big or small your swimming pool will be, we call this the discovery process. During this process, we will ask questions that will help us to provide you with a pool design that is not only what you have envisioned but a design that fits in with your home's existing architecture. We will ask questions like: What size would you like your swimming pool to be? What type of pool deck would you like? Do you want to have a heated spa? Do you have any water features in mind, like rock waterfalls? The initial meeting and discovery process will only take about thirty to forty-five minutes.
Follow-Up Meeting / Presentation
This will be our second meeting and it will follow the initial meeting by about 3 to 4 days. At this meeting will show you a color design and layout of your new swimming pool along with a proposal. The design and proposal will detail the options that we discussed during the discovery process. The design that we show you is yours to keep and it is a working document. In other words, if the design is acceptable then we turn it into a pool construction layout that is then used to acquire the necessary permits for construction and it is also used by the tradesmen for construction purposes. If the design needs some modification before acceptance, we will make the changes and email them back to you in order to speed up the process. Once we have the design and proposal ready for acceptance and you approve them, we move on to secure a swimming pool construction permit and schedule your project for commencement.
Color and Finish Selections
At this meeting we will be choosing the color scheme for your decking, tile, pool interior finish and screen enclosure. The meeting will take place at our showroom where we have all the latest samples of these materials. We will fill out a color information sheet that we will use for ordering the materials for your new swimming pool. We will want to schedule this appointment soon after the contract is signed so that we can get all materials on order and prevent delays. Sometimes this meeting will happen at the same time we sign the contract.
Project Commencement
We are now ready to begin construction of your new swimming pool. The following list details the phases of pool construction:
- Pre-cut sod and grade yard
- Layout form boards (outline of pool)
- Dig pool
- Install reinforcing steel and rough pool plumbing
- First pool inspection
- Install concrete pool shell
- Strip form boards and grade excess soil surrounding the pool
- Install brick coping and waterline tile (stonework if applicable)
- Install underground plumbing and electrical lines
- Dig and frame pool deck footer (wall if applicable)
- Second pool inspection for plumbing, electrical and footer
- Pour concrete footer
- Install pool deck pavers
- Install screen enclosure (if applicable)
- Install pool equipment
- Install electrical connection to pool equipment
- Prepare pool – Acid wash and seal all fittings
- Install Pebble Tec / Pebble Sheen finish
- Acid wash and clean tiles, start to fill pool with water
- Install child safety fence
- Remove Pebble Tec slurry box, grade site and remove trash
- Start pool and install chemicals
- Final pool inspection
- Homeowner instructions
- Swim in your new pool
We hope the photo gallery of new swimming pools and this detailed explanation of the process we use for designing and building new swimming pools in Tampa, Odessa, Trinity and across the Tampa Bay area, give you full confidence Grand Vista Pools can design and construct the perfect new swimming pool for you and your family. Contact us today to get started!