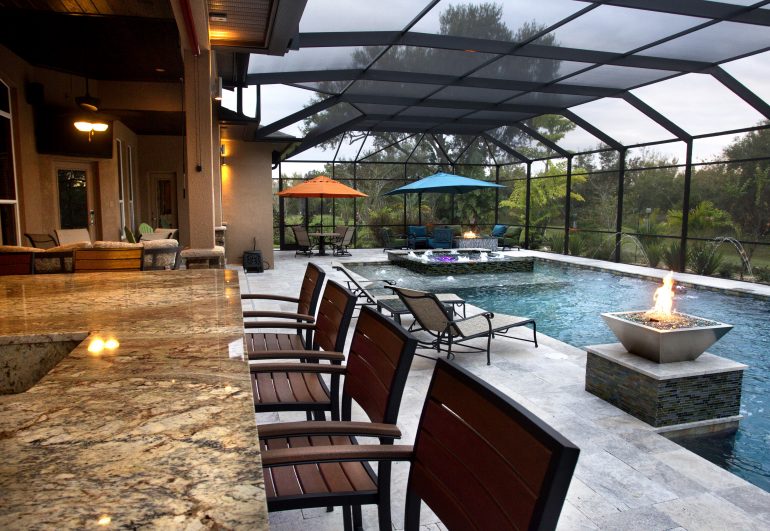 Bayonet Point is an unincorporated area of Pasco County with a population of roughly 23,000, which is less than 50 miles from the hustle and bustle of downtown Tampa and St. Petersburg. Nearby are sites of natural and historic interest, and a sprawling weekend flea market with hundreds of vendors.
Bayonet Point also offers visitors a glimpse into the unspoiled woodlands and wetlands that are typical of the Sunshine State's interior, and it's a short drive from the uncrowded white sand beaches of Florida's central Gulf Coast,
Bayonet Point Pool Builder
Looking for a Bayonet Point swimming pool builder to create a beautiful Bayonet Point outdoor living space for you and your family to enjoy? Look no further than Grand Vista Pools. We've been building new swimming pools in Bayonet Point, Florida and the surrounding area for more than 20 years, and we'd love to design and build your pool.
Bayonet Point Pool Contractor
One great benefit of hiring Grand Vista Pools is we are a licensed general contractor as well as an experienced pool builder. As a result, we can design and build your entire outdoor living area including any renovations to your home to make your indoor living space flow well with your new outdoor living space.
Bayonet Point Pool Remodeling
Bayonet Point has some long established neighborhoods with older homes whose pools may be in need remodeling or resurfacing. If your Bayonet Point pool needs some TLC or you just want to renovate your pool to better fit your family's lifestyle, Grand Vista Pools take care of this for you. Want to add a spa? Lighting, water or fire features? We can do it all!
Bayonet Point Outdoor Kitchens
Grand Vista Pools is also a leading designer and builder of Bayonet Point outdoor kitchens. Want to add a beautiful full-featured kitchen? How about a manly outdoor grill? Or maybe a fun outdoor bar with TV for get-togethers with friends. We can create the perfect outdoor living space for you.