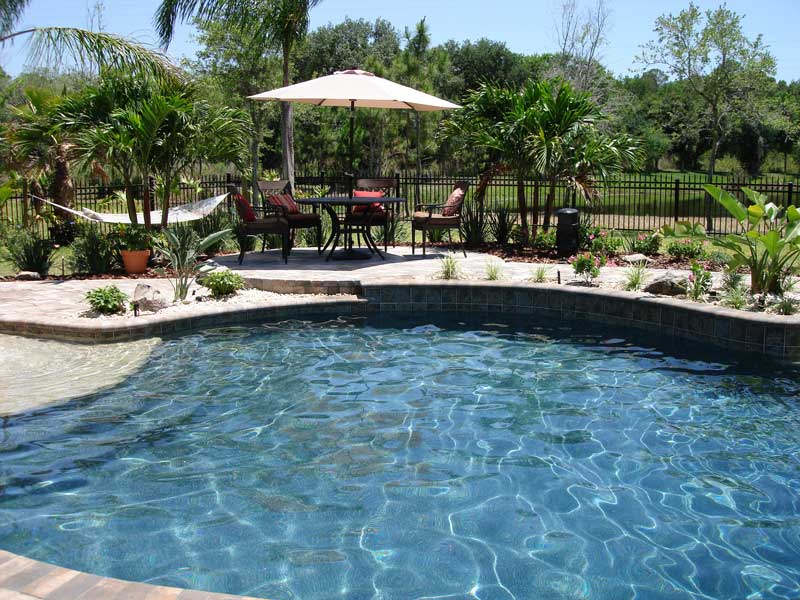 Clearwater, Florida is located along the Gulf of Mexico and is the county seat of Pinellas County. It's well known for it's weather and beautiful Clearwater Beach, and as a result is a popular vacation destination.
Clearwater is a mid-sized city of slightly more than 100,000, with a moderately-sized downtown that is surrounded by suburban neighborhoods plus some high-end waterfront homes both along the mainland and the island that makes up Clearwater Beach.
Clearwater Pool Builder
If you're looking for a Clearwater pool builder to turn your back yard into the ideal Clearwater outdoor living space for you and your family, consider Grand Vista Pools. We've been building new swimming pools in Clearwater and the Greater Tampa Bay Area for decades.
Clearwater Pool Contractor
One of the qualities that makes Grand Vista Pools unique is we are both an experienced pool builder and also a licensed general contractor. This means we can design and build your entire outdoor living space, including renovations to your home which may help connect your existing indoor living space with your new outdoor living space.
Clearwater Pool Remodeling
Clearwater experienced tremendous growth in the 1950's, 60's and 70's. As a result, there are many older pools in the city. Do you have an older swimming pool that needs remodeling? Want to add water, lighting, or fire features? How about a spa? We can do anything you like from pool resurfacing to an extreme makeover. Pool remodeling can make a old, dated pool look better than ever thanks to the new design options, features and technology we provide today!
Clearwater Outdoor Kitchens
Grand Vista Pools also specializes in designing and building Clearwater outdoor kitchens. Whether you want a manly outdoor grill, a full outdoor kitchen or fun outdoor bar, we can create the perfect outdoor living space for you.