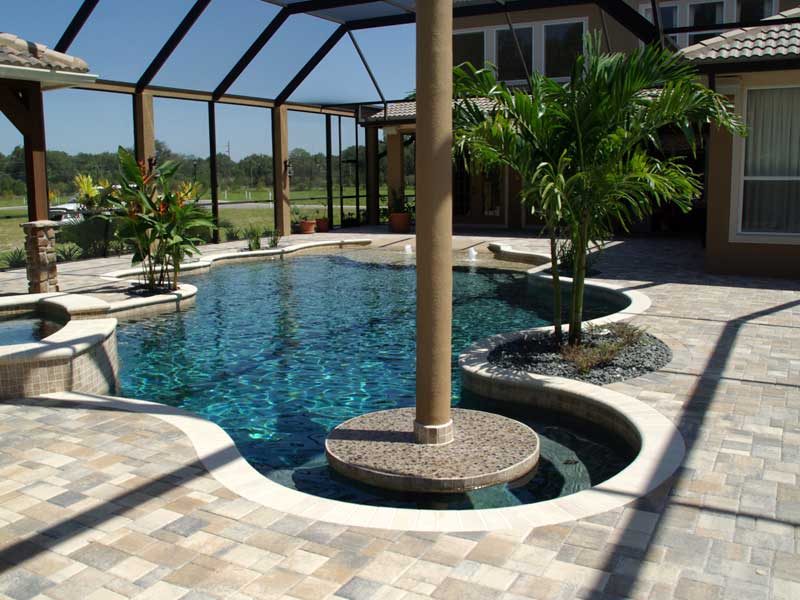 The Seven Springs historical marker describes the area in the early 1900s, "Early residents of this area were Samuel H. Stevenson and his wife, Elizabeth, who believed in the therapeutic benefits of the mineral springs now known as Seven Springs. It became something of a health resort after Stevenson created a pool by installing a well pipe and diverting water from a spring. The pool overflowed into the Anclote River, where a small bath house was built for guests and mineral water was given to any who wanted it."
Today the area that was known as Seven Springs, Florida is the Seven Springs Golf and Country Club in New Port Richey, Florida. A few housing and condominium developments, an elementary school and a major road still bear the Seven Springs name as well.
Seven Springs Pool Builder
If you're looking for a Seven Springs pool builder to turn your property into the perfect Seven Springs outdoor living space for your family, we encourage you to consider Grand Vista Pools. We've been building new swimming pools in Seven Springs, Florida and the surrounding area for many years.
Seven Springs Pool Contractor
One unique quality of Grand Vista Pools is not only are we an experienced pool builder, but we are also a licensed general contractor. As a result, we can design and build your entire Seven Springs outdoor living space including any renovations to your home to help your indoor living space and your outdoor living space flow together
Seven Springs Pool Remodeling
Do you have an older swimming pool that needs remodeling? Want to add a spa? Would you like to add lighting, water or fire features? We can handle whatever Seven Springs pool remodeling you may need from pool resurfacing to an complete makeover.
Seven Springs Outdoor Kitchens
Grand Vista Pools also specializes in designing and building Seven Springs outdoor kitchens. If you can dream it, we can build it - from a gas or charcoal outdoor grill to a full-featured kitchen to a beautiful outdoor bar.
To discuss your Seven Springs swimming pool, call us at (888) 530-POOL or contact us online!