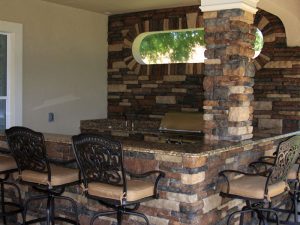 A great way to increase the value of your home, by adding square footage without too much difficulty, is to create an outdoor living space in your backyard.  Outdoor kitchens are becoming very popular and are a great way to entertain family and friends.  There are a number of new outdoor kitchen concepts that you may want to consider if you are going to design or upgrade your outdoor living space.
The Grill:
The trend in outdoor kitchen concepts has been to design the space around the grill.  The grill can serve as the main entertaining area, so the grill master can be a part of the gathering, rather than off by him or herself preparing the food. You have a number of options for the type of grill you may want to install.
• Big Green Eggs charcoal grills are becoming very popular, and they can be installed directly into your outdoor kitchen cabinet.
• Electric grills are another excellent choice as they are a faster option and can feature side burners, so other dishes can be prepared at the same time.
• With the popularity of both, we're also seeing a trend in outdoor kitchens to install both a Big Green Egg charcoal grill and an electric grill.  Why not have the best of both worlds?
Around the Grill:
With the grill serving as the entertainment hub, you may also want to consider adding in a bar area with bar stools.  Televisions installed near the bar are also another popular feature in outdoor kitchens. There's nothing more frustrating than having friends over to watch the game and then missing half the game yourself because you have to keep checking on the grill.  Sounds systems are another item to consider, and multiple speakers can be added to the ceiling for improved sound quality.
Extent the Outdoor Living Space Even Further:
To further increase the area of the space, gazebos or covered porches are becoming popular.  You may want to consider adding a fireplace to this space for those chili evenings and for great ambiance.  We are also seeing more people request refrigerators, which makes grabbing a cool drink much more convenient.
What's Your Perfect Outdoor Kitchen Concept?
The possibilities are endless and choosing the right outdoor kitchen concept for your space can be fun and exciting.  For help deciding what is best for you and your outdoor space and for the installation, contact us, Grand Vista Pools.  We specialize in creating outdoor living spaces that our customers will love.