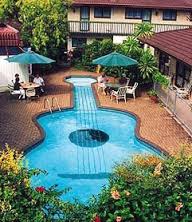 Most people want their backyard swimming pool to showcase their own unique style. These days there are lots of ways to customize your pool.
Here are 5 ways to help ensure you have a unique swimming pool.
Give your neighbor's pool a twist! Perhaps you like your neighbor's pool, but you also want to be unique. You can use the general layout or the main shape of your neighbor's pool, but by changing a few features you can make it look unique. You can add a spa feature, such as a hot tub. If you neighbor has one too, simply move it to the other side of the pool for a fresh look. You can also change the elevation with a raised pool deck.

Add water or fire features. To make your pool even more amazing, you can add water features. There are many options available including sprays, water fountains, and waterfalls. A look that is becoming increasingly popular is a rock waterfall. It gives a calming and natural look to any pool. You can also add a fire element, such as fire bowls, for an ambiance or excitement.
Create a new pool shape. If you have a pool size in mind, you can start with an existing pool shape, and make it your own by changing the angles and curves of the pool. A few small changes to the angles can make a big difference to the overall look.
Think outside the pool. The look of the pool deck can give your pool its own unique style. Fire bowls are a great way to enhance your pool's atmosphere, especially if you plan to use your pool in the evening. Landscaping and shade areas can also be incorporated to make a unique swimming pool look.
Turn on the lights. Lighting can be a fantastic addition to your pool. You could add underwater lights, border lights or even floating lights. Lighting can increase the amount of time you spend in your pool as well, making it a popular destination even as it gets dark.
Contact Grand Vista Pools. At Grand Vista Pools we know swimming pools. Many of our customers have a general idea, but want to tweak it a bit to make the pool their own. We can help with suggestions of features to add or changes to make.
Our most unique pool to date was for a customer who wanted a floating boulder in the middle. It was a large pool, so we placed a column in the deep end and then lowered an 800 pound boulder onto it. The customer wanted his children to be able to jump off the boulder, so we also built a bench around the column so the children had a way to climb onto the boulder. It also serves as a great place for adults to sit out in the deep end.
We'd love to help you design your own unique pool. Contact us today at Grand Vista Pools today!