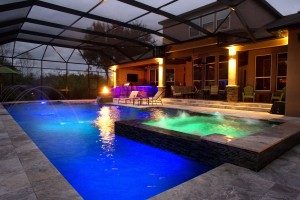 Tampa, Florida is a beautiful place to live.
According to a 2009 Pew Research Center study, ranks as the fifth most popular American city, based on where people want to live. Tampa was also ranked as the 5th best outdoor city by Forbes in 2008. And a 2004 survey by the NYU newspaper Washington Square News ranked Tampa as a top city for "twenty-somethings."
There are lots of things to do in the Tampa Bay area – beaches, professional sports, amusement parks, theater, music and more.
The most popular activities, however, actually take place at people's homes – having dinner with the extended family, grilling out back with friends, swimming in the pool with the kids.
You get to choose the mood – fun and festive, quiet and serene, or anything in between. It's comfortable, convenient, there's no traffic.
If you're ready make your home the center of your entertainment consider renovating or building a custom swimming pool. Add seating area with a fire pit or an outdoor kitchen.
Grand Vista Pools has been designing and building swimming pools and outdoor living spaces in Tampa, Florida and the surrounding communities for decades. Contact us today to discuss your outdoor entertainment project!