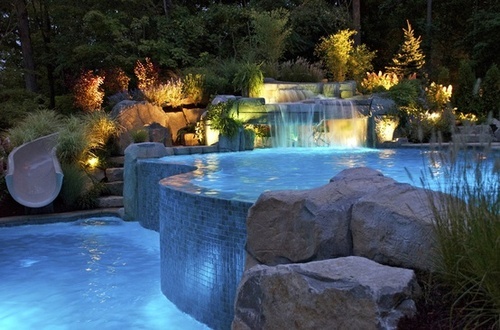 Pool resurfacing can be a big decision, but if your pool surface is peeling, chipping or looking worn, you're going to want to have it resurfaced.  The best way to have your pool resurfaced is to hire a professional contractor.  You want to be confident that the contractor is using quality materials, doesn't cut corners, and has experience with the surface they are installing.  If you want the world's most trusted aggregate pool finish, you want to be sure your pool technician is using Pebble Tec.
Pebble Tec
Pebble Tec is unique in that they require any contractor installing their finish to first become an authorized installer.  They do this to ensure the quality and consistency of their product.  They license their installers and will send representatives from their home company to check the work of their authorized installers.
At Grand Vista Pools, we are authorized installers for Pebble Tec and we exclusively install Pebble Tec as a pool finish.  This means that we are very experienced and knowledgable about this product.
Pebble Tec finishes maintain a beautiful look year after year.  They have two finishes:
The original Pebble Tech finish gives a natural elegance to a pool or spa area.  It has a slightly bumpy, non-slip texture.  It is a low maintenance  finish that comes in 18 colors.
Pebble Sheen is a beautiful finish with smaller pebbles.  The tiny pebbles are fused together and then buffed to create a very durable and stain resistant finish.  Pebble Sheen finishes have the look of rich granite.  Pebble Sheen comes in 16 colors, some of which include seashell pieces to add sparkle and shine to the finish.
Pebble Tec Warranty
You will love the beauty, quality and overall value of a Pebble Tec finish.  You will have a finish that is backed with a lifetime warranty.
You can trust that Grand Vista Pools will be committed to installing your Pebble Tec finish with the highest level of quality.  If you are ready to make your pool finish sparkle, Contact us at Grand Vista Pools today!