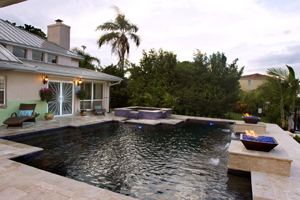 Backyard swimming pools can be a wonderful source of recreation and fun for your family.  They are certainly more convenient than packing up the van and driving to the local pool.  If you want to have a swimming pool, you'll need a company that specializes in building or installing an in-ground pool.
Starting the Process:
Swimming Pool installers are those companies that will be able to take you through the entire process of building your backyard pool.  They will meet with you at your home to get the measurement and layout of your backyard and to discuss the many different options for the look and layout of your pool.  They will be able to help you apply for the building permit, or may do this for you.  Then the pool installers are ready to do what they do best – build your pool!
Installing the Pool:
Here's a quick overview of the pool installation process.
Pool installation begins with grading the yard and then creating the outline of the pool.
Then the pool can be dug and the steel rebar installed.
Typically an inspection will be required at this point and once approved, the concrete can be poured.
Then the underground plumbing and electrical work will be done.
This is followed by laying the tile, edging and concrete footers.
Then deck pavers, screen enclosures and pool equipment are installed.
Next the pool can be filled with water.
Once the child safety fence and final inspections are complete, the pool is ready to be used and enjoyed!
Let Grand Vista Install Your Pool
If you are looking for a swimming pool installer, consider Grand Vista Pools.  We specialize in pool installation and believe in maintaining excellent communication with our customers throughout the process and beyond.  We know you want to know what is going to happen when, and we are happy to provide you with that information!
Please give us a call at (888) 530-POOL or fill out the contact form here and take that first step towards enjoying a new Swimming pool.