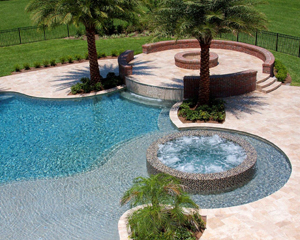 Backyard pools are a great source of family fun during the hot days of summer.  You may be thinking about adding a pool for your family, but wondering how long the pool installation will take. There are a number of steps required to building the pool, so you will want to be prepared for the typical time frame.
Design and Permits:
Once you make the call to Grand Vista Pools (your pool installation company), we will set up an appointment to come to your home.  This way we can measure your backyard and discuss with you ideas for your pool, including the shape, size and look.  This meeting can take a half hour to an hour.  Then we'll will draw up the full proposal.  Next we will meet to confirm the design and make final decisions on your colors and styles.  Once the paperwork is signed, we will start the permit process.  It typically takes 30 days to get permit approval.  Once the permit comes in we can get started on the job.  From your initial call to our beginning the actual job, it is typically 4-5 weeks.
Now the real action begins!
Grand Vista pool installers will begin grading your backyard and then creating the layout of your pool.  Then we'll dig the pool and install the steel rebar.  At this point, the first building inspection will need to be done.  Once that is approved, the concrete can be poured.  This process typically takes 1 week.
Next, the underground plumbing and electrical work will be installed and the tile, edging and concrete footings will be poured.  This is typically completed in week 2. In week 3, the deck is built and by weeks 4 -5 the screen enclosures are installed.  In weeks 5-6 final pool equipment will be installed, child safety features will be added, the pool will be filled and final inspections will be completed.
It's now time to enjoy your pool!
The whole process, from calling us to diving into your pool is typically 10-12 weeks.
If you are ready to get started on the process give us a call at Grand Vista Pools.  We have an excellent communication packet we provide to all our customers, so you will know what is happening and when you will be able to start swimming in your brand new pool!
Please give us a call at (888) 530-POOL or fill out the contact form here and take that first step towards enjoying a new Swimming pool.