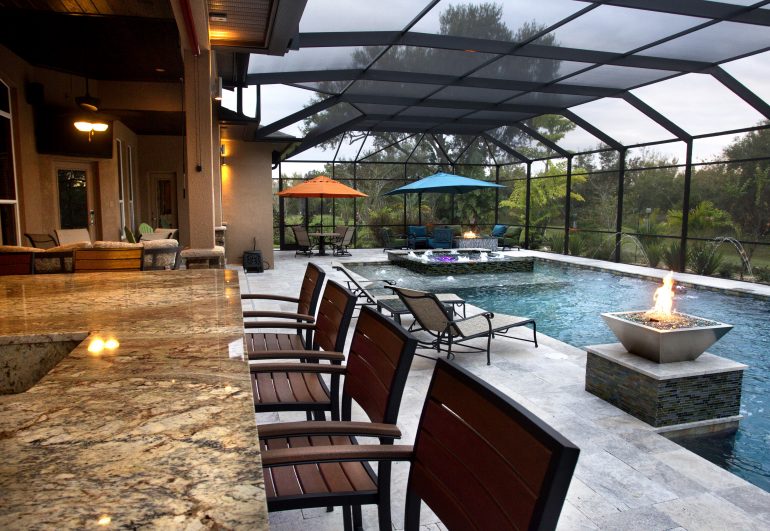 Lake Magdalene is an unincorporated area in northwestern Hillsborough County. The area is named after the 200 acre lake that shares its name.
Lake Magdalene was originally a rustic neighbor of Tampa, and by 1888 had grown large enough to warrant its own post office. But as Tampa continued to grow and residential construction boomed in the 1960s, Lake Magdalene transitioned into a residential suburb of Tampa, and today is made up of about 30,000 residents.
Lake Magdalene Pool Builder
Are you looking for an Lake Magdalene swimming pool builder to create a beautiful Lake Magdalene outdoor living space for you and your family? Consider Grand Vista Pools. We have been building new swimming pools in Lake Magdalene, Florida and the surrounding Tampa Bay area for more than 20 years, and we would love to design and build your pool.
Lake Magdalene Pool Contractor
One benefit of choosing Grand Vista Pools is we are a licensed general contractor in addition to an experienced pool builder. Therefore, we can design and build your entire Lake Magdalene outdoor living area including renovations to your home to make your indoor living space and new outdoor living space flow together perfectly.
Lake Magdalene Pool Remodeling
Lake Magdalene has some well-established neighborhoods with older homes whose pools may be in need resurfacing or remodeling. If it's time to resurface your Lake Magdalene pool or you want to renovate your pool to better fit your family's lifestyle, Grand Vista Pools can do this for you. Want to add a spa? Lighting, water or fire features? No problem - we can do it all.
Lake Magdalene Outdoor Kitchens
Grand Vista Pools is also a leading designer and builder of Lake Magdalene outdoor kitchens. Want to add a beautiful full-featured kitchen? Or maybe a fun outdoor bar with TV to hangout with friends? How about a manly outdoor grill? We can create the perfect outdoor living space for you.