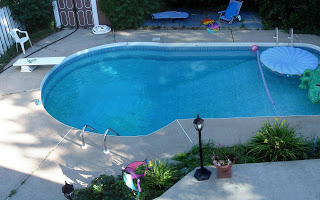 Is your pool starting to look a bit warn?  Are you seeing cracks or holes?  It may be time to resurface your pool.  But how much will it cost?
Can I Do This Myself?
Some blogs will suggest that pool resurfacing can be done as a do-it-yourself project.  As you might guess, this isn't a simple process and you don't want to make a mistake.  Your pool is a big investment and resurfacing your pool adds to its life and quality.  In order to have your pool resurfaced to the quality you will expect, you should really consider hiring a professional company.
In fact, there are certain products like Pebble Tec, that are not available for DIY projects, as they must be installed by a trained technician.  At Grand Vista Pools, we will personally come to your pool to measure and assess your project to make sure you get the highest quality at the best cost.
The Cost to Resurface a Pool
There are a number of variables to the cost to resurface a pool, including the size of the pool and the materials used.  This means that there isn't really a set price for resurfacing.  As you look around at the different options you have for resurfacing your pool, you'll want to watch for a few things.
Make Sure All Steps are Included
At Grand Vista Pools, we take our customer service and the quality of our work very seriously. We believe in doing the job right the first time.  This is why we will prep the surface of your pool with an acid wash and then a rubberized bonding agent.  We have found that some companies will leave off the bonding agent to make their price a little cheaper, but we know it is a crucial step to complete a high quality resurface job.  It's a little savings up front that usually has a big cost down the road.  The rubberized bonding coat is what allows the new surface to stick to the walls and bottom of your pool and will prevent peeling.  Once you spend the time and effort to resurface your pool, we know you want it to look great for years to come!
Use Quality Materials
Another variable to remember when considering the pool resurfacing cost is the quality of materials used.  We only use Pebble Tec products, which are the world's most trusted pool finishes.  They have received a 5 star quality rating, and in all our work with Pebble Tec, we have never had an issue with their finishes.  Our installers are trained and we are an authorized installer for Pebble Tec.
Having a Good Time Frame
We know you love your pool and want to get back to enjoying it as soon as possible.  As part of our commitment to customer service we will explain our time frame throughout the entire process.  From our initial visit to the completion, we want you to be aware of what we are doing and completely satisfied with the process and outcome.
If you are in need of resurfacing your pool, please contact us at Grand Vista Pools today.