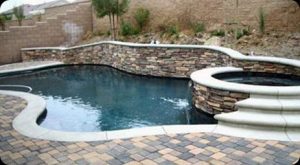 If you are considering a new pool, or an update to an existing pool, you will be excited to learn of the new features and designs for 2015 swimming pools. Of course, technology has made backyard swimming pools even more convenient. You guessed it, there's an app for that!
The 2015 swimming pool can be automated so that you are able to control water chemistry and comfort with the touch of a button. You can keep you chlorine levels consistent by using an automated salt system, as opposed to the older method of manually adding chlorine. You can also add an app to your phone or tablet that will allow you to turn on your spa when you leave the office, so that it is ready for you when you arrive home. How cool, or warm, is that!
The look and design of pools has changed over the years and 2015 swimming pools will likely not feature ladders as a way to get out of the pool. It is more common for benches to be built along the side for you to use to climb out. This improves the overall look of the pool.
Traditionally, pools were a rectangle shape without any add-ons. Now, small features can be added for less cost that you might think, and they give the pool a creative look. There are many new water features that can be added to pools to make a pool look unique.
Pool finish has also improved over the years. At Grand Vista Pools, we use Pebble Tec, which is a superior finish that is built to last for the life of your pool, as long as the pool is properly maintained. Pebble Tec is designed to be tough enough to even handle some lapse in pool care. By using these high quality materials, it can prevent you from ever needing to refinish your pool.
If you are interested in a 2015 swimming pool, we hope you will contact us at Grand Vista Pools today!